Setting the Right Example
Impressions still make a lasting impact on people, so it's extremely important that in the few moments you get as your first impression you are portraying the right message!
In work and life, it is so important to set the right example and make the right impression. As a mum I constantly try to do things that send the right message for my kids. As an employer I take actions to ensure the right impression is made to my staff. As a recruiter I make sure I set the right impression to those that I interview. Irrespective of the position you are in it's always important to be aware of your actions and how they impact others.
Within a professional setting this starts from the moment you decide to apply for a position. Consider the formal style and text used, these will all play a part in the impression you leave on the recruiter! Make sure you are noticed and stand out from the crowd. It is very easy to be missed if you present your resume the same as everyone else. Aim to capture the attention of the recruiter and more importantly, keep their attention!
Things to consider:
Colour
Sub Headings
Unique formatting
Bullet points
Images
Example: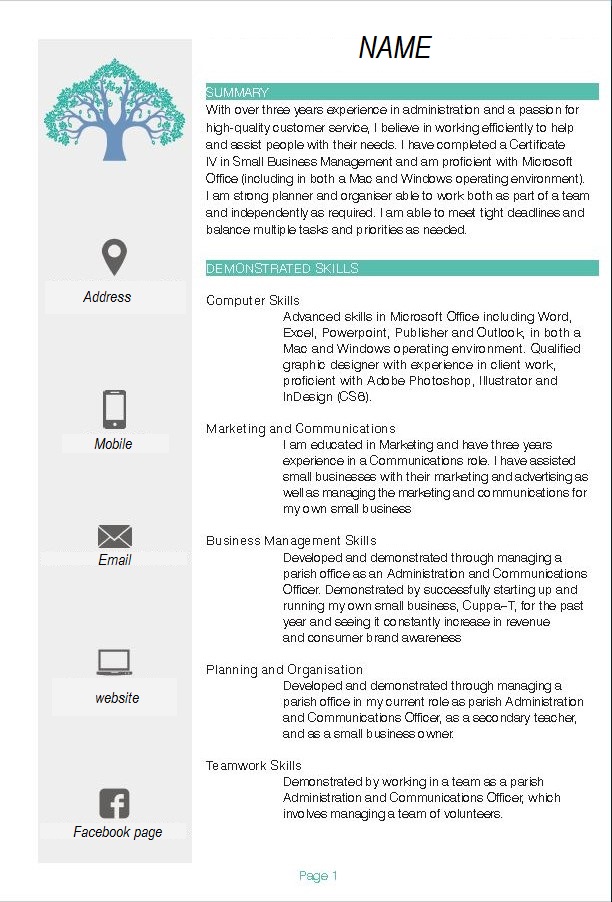 Following the application stage is the interview. Whether you are attending an interview at the recruitment agency or with the actual client consider the impression you want to make and leave with the decision maker.
Things to consider:
Arrive early – a 9am interview means you arrive at 8:50am not 9am
An interview will require you to dress in suitably corporate attire unless otherwise stated
Ensure you don't smell of cigarettes
Don't wear sunglasses on your head
Give eye contact
Be engaging
In the workplace your actions will impact others irrespective of the position you are in. As the manager of a small business I set high standards but do not expect anything of my staff that I would not do myself. It is definitely a lead by example approach. Common courtesy, respect and manners need to play a big role in our day to day activities. Don't demand or expect things of others. People will only help you if you are helpful yourself. Courtesy extends far and gratitude is equally important. These principals are relevant in whatever size team or business you work in.
As we approach the Christmas season please remember your actions and impressions you leave on others.
"A simple act of kindness can make a tremendous impact on a person's life"